An overview of all patients at the clinic that can be used as priority support.
data collection
The Patients' glucose data are uploaded to DDanalytics
prio
The PRIO report is generated after the patients' data have been uploaded to the system
Care & PRIOrization
The PRIO-report is the basis for further decisions on care paths and patient visits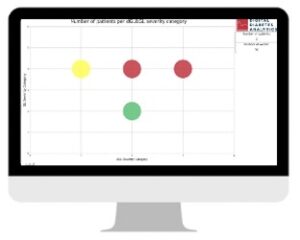 With the help of the clinic overview, PRIO, you get a tool to prioritize and book the right patients based on the patients' individual needs and the resources of the clinic.

The green circles show groups of patients with good glucose control who only need help with prescription renewal and have no use of being prioritized for standard controls.

The clinic overview helps to create standardized care paths for each profile group of patients.
There are opportunities for major improvements with automated interpretation of glucose data in investments already made in CGM/FGM sensors
The increased use of CGM/FGM sensors within diabetes care enables analysis of patients' glucose values. Despite huge investments in sensors, patients with diabetes have not yet significantly improved their glucose control.
The vast amount of collected data are impossible to interpret without the help of complex systems. Today, praxis is still manual interpretation and therefore large amounts of data are not analyzed. Improved dataanalysis is crucial in order to increase the understanding of the diabetes condition and life situation of the individual patient.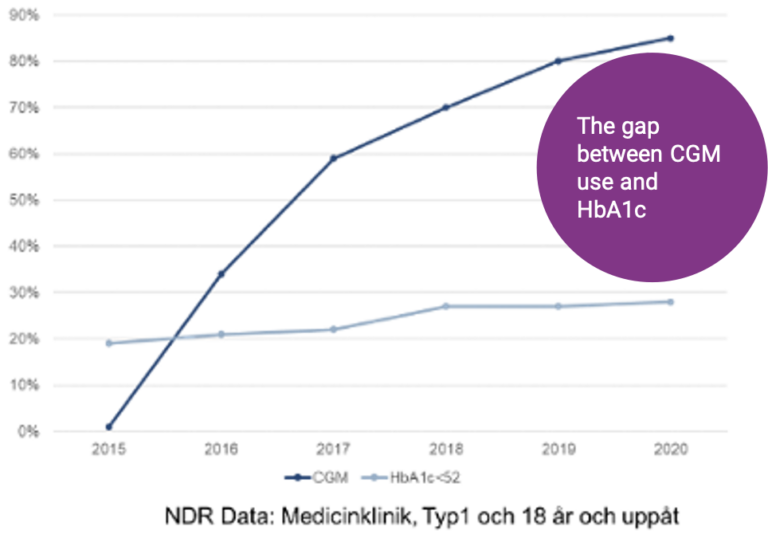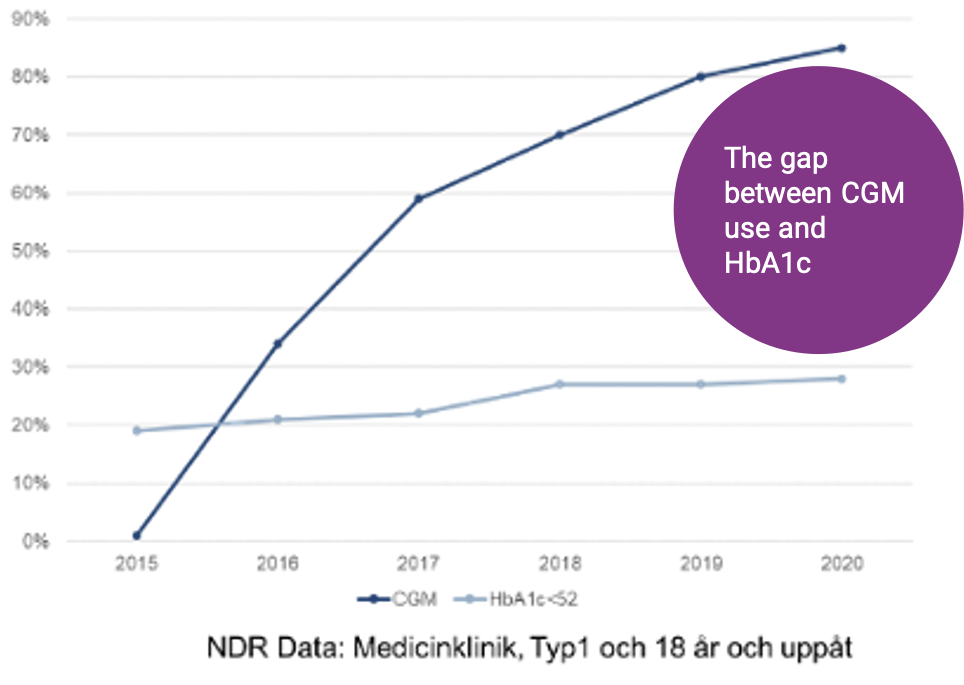 According to traditions and praxis, check-ups and patient visits are planned based on calender-controlled planning. All patients with diabetes are called in for an annual visit to a physician or diabetes nurse, regardless of the individual's needs.
The time for booked visits is seldom linked to when the patient actually needs to get in touch with a doctor or nurse.
Many patients also find it difficult to get access to carewhen they need support with their diabetes.
Others feel that their visits do not need to be booked, since there glucose control is acceptable and they onlyneed renewed prescriptions.